A model for creating a stronger, more equitable, and prosperous St. Louis—once and for all
Scroll down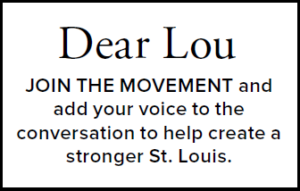 Once and for All is an effort to address the root source of our region's longstanding challenges—from failing schools to high crime rates, slow economic growth, and our region's steady decline in prosperity as well as national prominence and influence.
A wealth of research published by Washington University, University of Missouri–St. Louis, Forward Through Ferguson, Greater St. Louis Inc., and others shows how our high concentrations of poverty and communities in decline don't just harm those most directly impacted. The effects of these conditions have a detrimental impact on our entire region.
All of this is why, in order for the St. Louis region to be competitive and successful in the years ahead, it's vital that we invest in our under-resourced communities to address the source of our region's challenges and create a stronger, more prosperous St. Louis—once and for all.
Watch our explainer video below to learn why a comprehensive, holistic approach that addresses the needs of both families and communities is essential for creating real change. 
Who We Are
BEYOND HOUSING is a nationally recognized community development organization that works to strengthen families and transform underserved communities to create a stronger, more equitable, and prosperous St. Louis region for all. Our comprehensive model is built on the understanding that strengthening families and transforming underserved communities isn't simple—it's complex and requires a comprehensive, multi-pronged effort.
Over the years, we have created the infrastructure of staff, partners, programs, and relationships that is essential for fulfilling our comprehensive model in order to create a stronger St. Louis—once and for all.
Our work brings civic leaders, targeted nonprofits, corporate partners, and residents together to create meaningful and lasting change and is focused within the 24:1 Community—a community comprised of multiple municipalities within the Normandy schools footprint in North St. Louis County.
In just over 10 years, Beyond Housing and its partners have raised and invested more than $150 million into the 24:1 Community.
$150,000,000+
raised and invested in the 24:1 Community since 2010
$70,000,000+
invested in construction projects for housing and economic development
$11,000,000
provided in home repair grants
$700,000+
raised and invested in rent and utility assistance, food, and essential supplies distribution, COVID-19 testing, and small business assistance since beginning of COVID-19 pandemic
A Model for Creating Meaningful and Lasting Change
OUR COMPREHENSIVE MODEL for strengthening families and transforming underserved communities is based on our own experiences in community development over several decades, as well as learnings and data from other community development organizations and thought leaders across the country.
This model is wholly unique in the field of community development and combines key insights on the realities of underserved communities and the efforts and resources that are needed for creating lasting change.
Its effectiveness has been proven by the results achieved over the last 10 years, as well as by the lack of meaningful results produced by other transformation efforts.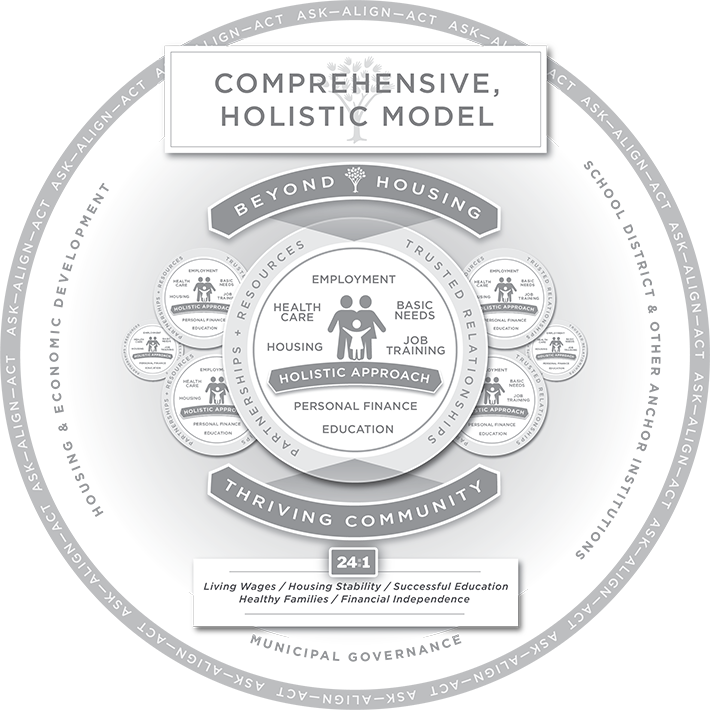 Comprehensive
Transforming underserved communities isn't simple—it's complex. Because of this complexity, real change cannot be achieved by addressing a single area such as housing or education on its own—it requires a comprehensive, multipronged effort. This is why so many single-focused efforts fail to produce any meaningful results.
Two recent examples of this are Facebook founder and CEO Mark Zuckerberg's $100 million effort to improve schools in Newark, New Jersey and the Gates Foundation's seven-year, nearly $1 billion initiative to improve education in several low-income communities. Despite generous funding and the best of intentions, both of these efforts failed to produce any meaningful results. We believe one of the primary reasons for this is a lack of understanding of how poverty impacts students and families—that what happens outside the classroom is even more of a factor as what happens within it.
Communities are ecosystems that require many things, each dependent on the other, to become successful places where people want to live.
Because of the breadth of challenges in underserved communities and their interdependent nature, our model is comprehensive and addresses entire communities by strengthening families, transforming the physical environment, and creating change at the systems level.
Holistic
Families and communities each have many needs that are interrelated and must be addressed as part of a greater whole.
Serving Families Holistically
People's problems don't exist in silos—they are interrelated. In order to help a parent earn a living wage we may also have to help them with transportation, childcare, or unmet health needs. Because of this, the following key impact areas necessary for thriving families are addressed in an integrated, holistic manner.
Housing
Health
Education
Employment
Financial Advising
Childcare
Transportation
Serving Communities Holistically
Communities are ecosystems that require many things, each dependent on the other, in order to thrive. They have many needs—from an adequate stock of affordable housing to quality schools, sound infrastructure, convenient access to goods and services, effective local government, and more—in order to become successful places where people want to live.
Transforming the Physical Environment

Removing unsafe, dilapidated homes
Constructing new and rehabbing existing homes
Economic development to bring in new businesses, create jobs, and provide access to essential goods and services from food to financial and health services
Improving municipal infrastructure from roads to sewers; city planning and beautification through parks, pedestrian walkways, and greenspaces

Creating Change at the Systems Level

Community Governance & Capacity Building: Partnering with municipal leaders and local government to create better financial efficiencies and quality of services to residents, while also coordinating municipal mergers, consolidation of courts, police departments, and other essential services
Advocacy: Advocating for the needs of the community with local and state government
Deep, Trusted Relationships
Change moves at the speed of trust. Creating real change requires an understanding of the community along with building deep, trusted relationships with residents, government officials, the business community, and other community stakeholders.
Building these relationships takes time, but they are critical for building trust which is essential given the amount of mistrust that exists from decades of unfulfilled promises, systemic racism, and broken systems.
Ask, Align, Act
We continually initiate conversations with residents and the greater community to identify priorities. Our model of Ask, Align, Act ensures that our actions are guided by the voice of the community. We ask for the community's input to identify priorities, and then work to align resources and act toward fulfilling a common vision.

Built for Complex Challenges
Having a comprehensive model in itself is not enough. Creating real change also requires significant resources as well as a system to deliver those resources in an integrated, holistic manner.
Infrastructure of Staff, Programs, Partners, and Resources
Delivering a truly comprehensive model requires more resources than any one organization can deliver on its own. This is why we have invested so heavily over the years to create an infrastructure of staff, programs, and nonprofit partners with complementary skills and expertise.
Beyond Housing Staff and Programs
Housing Resource Coordinators (HRCs)
HRCs run the Services Enriched Rental Housing program which provides affordable rental housing and supportive services including financial advising, homeownership, and referrals for employment, continued education, childcare, and more. The HRCs also manage Beyond Housing's two senior living facilities which provide affordable housing and services for area seniors.
Family Engagement Liaisons (FELs)
The FELs are part of our ongoing partnership with the Normandy school district. FELs work directly inside schools to serve as a liaison between home and school and assist students and families by removing barriers that can prevent children from being successful in school.
Community Health Workers (CHWs)
The CHWs run the Community Health Program which helps individuals and their families manage chronic health conditions with a focus on type 2 diabetes and childhood asthma. These unmet health needs often create an additional barrier preventing families from making a living wage and becoming self-sufficient.
HRCs, FELs, CHWs, and other staff members work together to address the needs of each family in coordinated case management to ensure that needs are served holistically.
Economic Development
Beyond Housing facilitates and manages large-scale commercial development projects to bring in new businesses, create jobs, provide better access to goods and services, and stimulate the local economy. The

24:1 Small Business Network

supports entrepreneurs and small businesses in the 24:1 Community by connecting them to information, resources, and business networking events.
Municipality
Staff work in partnership with local government officials to support municipalities through capacity building to improve services and efficiency of budgets to facilitating infrastructure upgrades from sewer systems to new parks, sidewalks, and more.
Youth Development
The Pagedale Family Support Center provides youth development through after-school, summer, and athletic programs, as well as supportive services for adults including job training and referrals, a computer lab, monthly food pantry, and other services. The Viking Advantage program provides an Individual Development Account (IDA) matched savings program to help students save for college or vocational training, plus college counseling for local high-school students.
Partner Organizations and Additional Services
Staff work directly with a network of nonprofit organizations that provide complementary and mutually reinforcing services as well as corporate partners and anchor institutions including the Normandy Schools Collaborative, University of Missouri-St. Louis, and Washington University.
Systems that Support the Integrated Delivery of Services and Resources
Equally as important, all of this must be coordinated with the help of systems that allow everyone to connect in order to deliver services in an integrated, holistic manner.
As an example, HRCs, FELs, CHWs, and other staff members work as a team with each family to address and serve needs holistically in coordinated case management. Resources are then aligned from our network of nonprofit partners.
Making Every Dollar More Effective
The comprehensive, holistic nature of this model combined with the infrastructure of staff, programs, partners, and services provides collective impact—an impact that is far greater together than each individual effort on its own.
This also makes each dollar invested exponentially more effective. Investments toward education or health, for example, achieve greater results because of the mutually reinforcing work being done in other interrelated areas which creates lasting change for generations to come.
Additionally, our new logic model, created in partnership with Washington University, maps the logical relationships between resources invested and activities within our comprehensive model. This enables us to measure the benefits or changes that result from these investments in order to track and optimize our efforts to achieve greater results moving forward.
Resources for Achieving Scale
Our model has delivered impressive results over the last 10 years, and we expect to achieve even greater results in the years ahead.
Transforming underserved communities doesn't happen overnight, but things can always change if enough people want them to.
We believe that a better St. Louis is within our reach. The St. Louis area has the heart, talent, and resources to reinvent ourselves for the better. By pooling more resources and expertise from a wider coalition of partners, we can address our underlying issues to make this home of ours what we want it to be—once and for all.
A Track Record of Proven Results (2010-2020)
The following is a highlight of results and achievements over the last decade. Though we believe these results are impressive, we have continually refined our model and approach throughout the years and are confident this model will produce even greater results in the years ahead.
$150,000,000+
raised and invested in the 24:1 Community since 2010

$70,000,000+
invested in construction projects for housing and economic development
Housing and Infrastructure
$48,000,000+
invested in affordable housing construction

$11,000,000
provided in owner-occupied home repair grants
$15,500,000
increase in property values 
$35,000,000
invested in affordable housing construction

200+
dilapidated homes demoed

200
new affordable homes constructed

500
affordable rental homes currently occupied

$6,000,000+
invested in new streets, improved infrastructure, and beautification in 2019 alone
Commercial/Economic Development
SAVE A LOT GROCERY STORE, TWO SENIOR HOUSING CENTERS, MIDWEST BANK CENTRE, 24:1 CINEMA, AFFINIA HEALTHCARE CLINIC, BJC BEHAVIORAL HEALTH CLINIC, ANTI-PAYDAY LOAN CENTER, AND CREDIT UNION

$6,500,000
second phase of our successful commercial and economic development in Pagedale with a new $6.5 million, 20,000-square-foot building opened in July of 2021, which is home to entrepreneur and minority-owned businesses

$21,100,000
in commercial development
Education
80%
of students and families engaged with Family Engagement Liaisons in 2019 remained in their homes

65%
of student attendance maintained or improved in 2019

54% to 81%
growth in high school graduation rates from 2014 through 2017

97%
improvement in reading and math for children attending Pagedale Family Support Center

93%
of high school seniors in Viking Advantage college savings program enrolled in college

 7.1% to 62.5%
increase in overall test performance from 2014 through 2017
2013-2017
period during which we assisted the Normandy school district in regaining accreditation
$970,252
total college savings used toward post-secondary education since inception of the College Savings program

2019
Horace Mann Friend of Education Award from Missouri National Education Association

2019
Family Engagement Liaisons Program named a Merit Finalist in Mutual of America Community Partnership Awards
The comprehensive, holistic nature of this model combined with the infrastructure of staff, programs, partners, and services provides collective impact—an impact that is far greater than each individual effort on its own.
Personal Finance/Wealth Creation
$14,500,000
in wealth creation (individual savings accounts, college savings, and down payment assistance for new homeowners)

51%
reduction in number of families being evicted or moving due to financial problems since inception of Housing Resource Coordinators (HRCs)

65%
of people served reporting increase in family income in 2019

76%
improved their self-sufficiency in 2019

19
moveouts in 2018 due to families becoming first-time homeowners

2%
annual increase in assessed property values
Health
Community Health Workers (CHWs)
established in 2019 to help meet unmet health needs with a focus on chronic conditions of type 2 diabetes and childhood asthma

Improved access
to healthcare with the opening of Affinia Healthcare and BJC Behavioral Health clinics in 2019

92%
of participants in Community Health Program completed all primary and preventative care appointments

82%
of participants in Community Health Program did not visit an emergency room for primary care

1st
New Save a Lot grocery store—the first grocery store in Pagedale in 40 years—opened in 2010 providing access to fresh, healthy food in what was previously a food desert

2016
winner of Robert Wood Johnson Foundation Culture of Health prize
Government
17
local governments collaborating and saving over $1 million on public services

13
court systems consolidated into two main court hubs to create savings and improved services

13
police departments consolidated into two police forces

1st
municipal merger in the history of St. Louis County, merging Vinita Park into Vinita Terrace; a second merger is underway with the Village of Glen Echo Park and the City of Normandy